March 7th is poster girl of Honkai Star Rail, with her face featuring Icon of this game in google play store. She is an interesting character due toher Preservation path, which makes her a tank in the team.
Because of this uniqueness, March has the potential to create unconventional and distinctive lineups or teams. Whether this potential is effective or not depends on the other characters you use alongside her.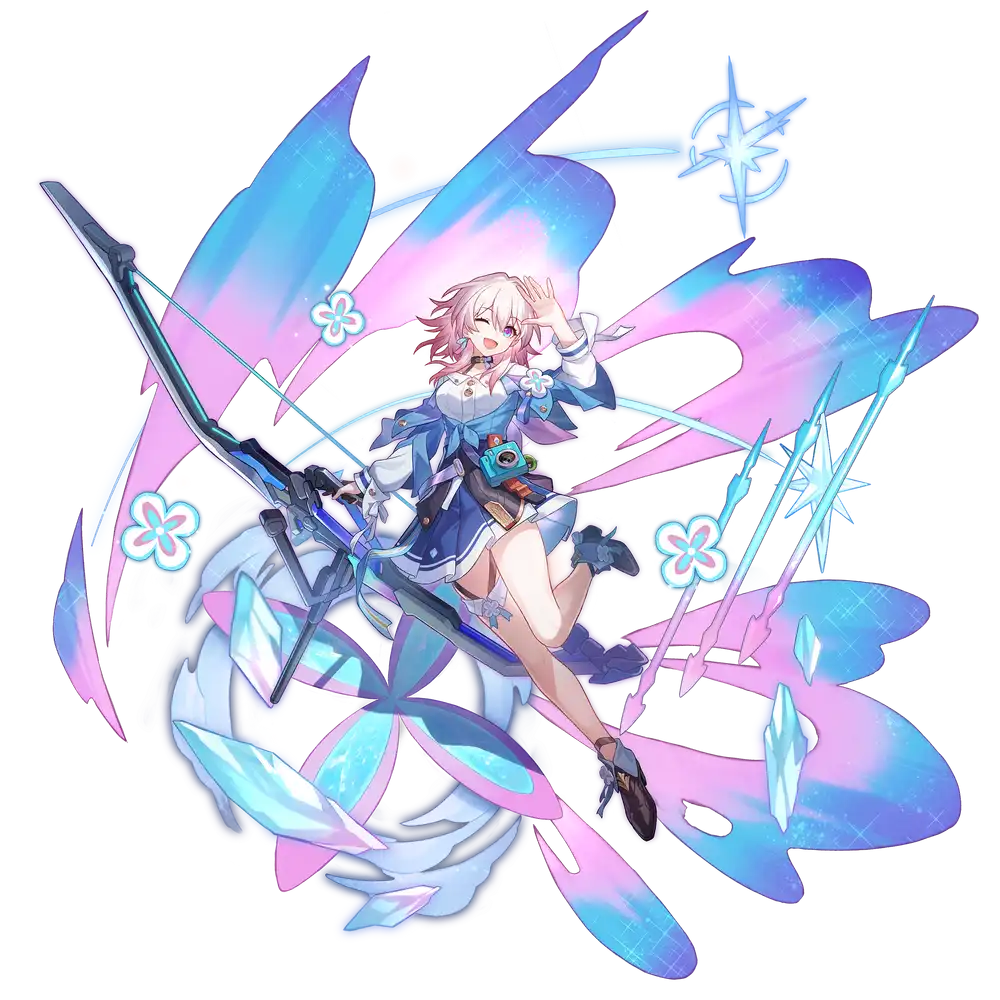 Best Light Cones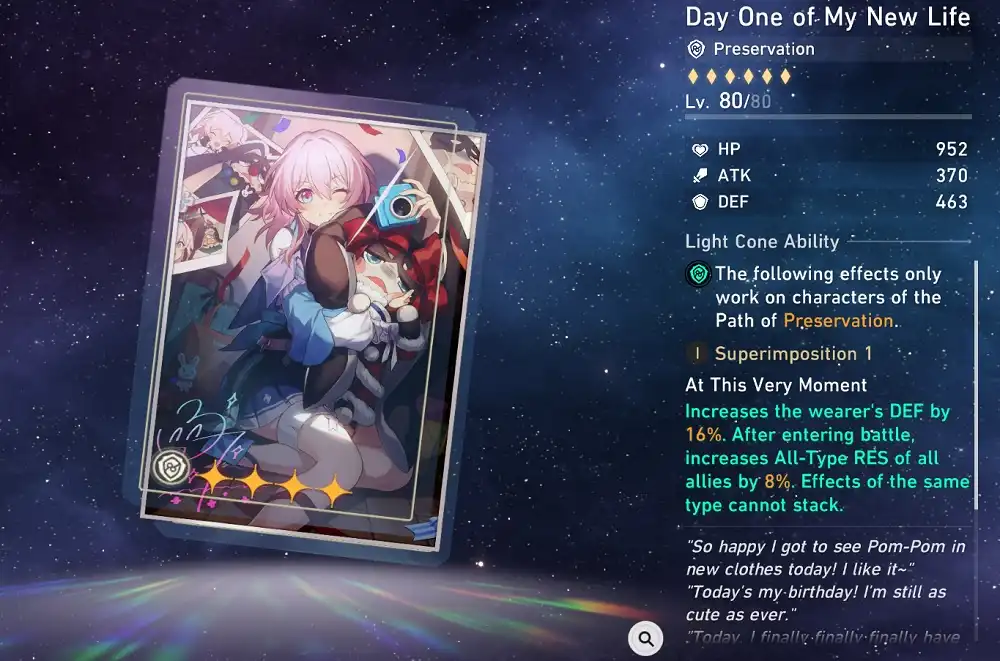 When I write this article, some of most recommended light cone for March 7th is 4 star light cones as listed below:
Day One of My New Life: Increases the wearer's DEF by 16/18/20/22/24%. After entering battle, increases DMG RES of all allies by 8/9/10/11/12%. Effects of the same type cannot stack.
Trend of the Universal Market: Increases the wearer's DEF by 16/20/24/28/32%. When the wearer is attacked, there is a 100/105/110/115/120% base chance to Burn the enemy. For each turn, the wearer deals DoT that is equal to 40/50/60/70/80% of the wearer's DEF for 2 turn(s).
This is Me!: Increases the wearer's DEF by 16/20/24/28/32%. Increases the DMG of the wearer when they use their Ultimate by 60/75/90/105/120% of the wearer's DEF. This effect only apply 1 time per enemy target.
We are Wildfire: At the start of the battle, the DMG dealt to all allies decreases by 8/10/12/14/16% for 5 turn(s). At the same time, immediately restores HP to all allies equal to 30/35/40/45/50% of the respective HP difference between the characters' Max HP and current HP.
Amber: Increases the wearer's DEF by 16/20/24/28/32%. If the wearer's current HP is lower than 50%, increases their DEF by a further 16/20/24/28/32%.
Relic and Planar Ornaments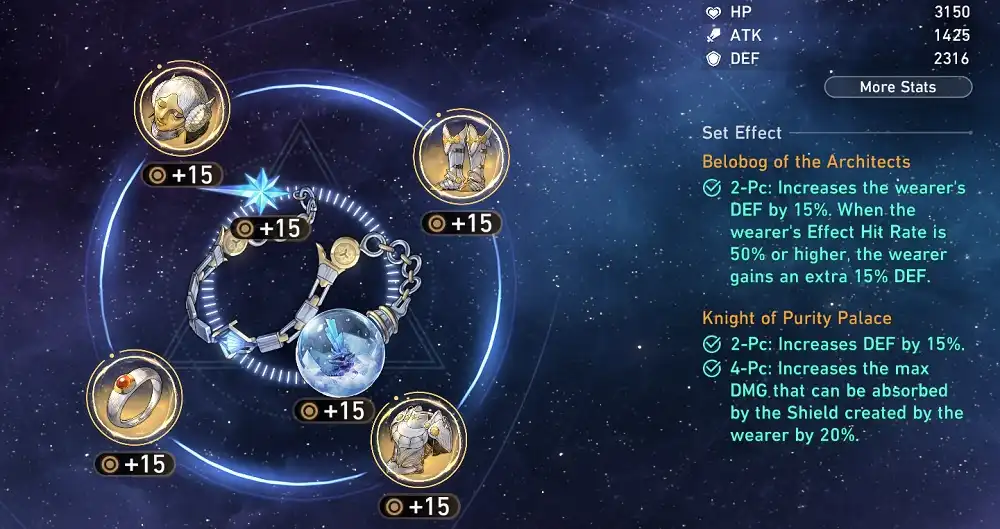 The main role for her in the team is to provide shields to one of party member. The strength of these shields depends on March's Defense. Therefore, she only needs Defense and Speed stats in order to provide shields as quickly as possible.
Recommended relic sets: Knight of Purity Palace from Cavern of Corrosion: Path of Holy Hymn in Cloudford, Xianzhou Luofu.
Knight of Purity Palace
(2) Increases DEF by 15%.
(4) Increases the max DMG that can be absorbed by the shield created by the wearer by 20%.
For Planar ornament, the best will be Belobog of the Architects from Herta Simulated Universe World 6.
| | |
| --- | --- |
| Belobog of the Architects | (2) Increases the wearer's DEF by 15%. When the wearer's Effect Hit Rate is 50% or higher, the wearer gains an extra 15% DEF. |
For defense purpose, DEF stats definitely taking priority. But if you plan to use her as semi support with her ultimate for mono ice element, consider using Effect Hit Rate% on Body and Energy Regenneration on Link Rope.
| Body | Feet | Planar Sphere | Link Rope |
| --- | --- | --- | --- |
| Effect Hit Rate%/DEF% | Speed | DEF% | DEF%/Energy Regen Rate |
Substats
*DEF% = Effect Hit Rate > Speed > HP%
*Again, depend on your priority
Team for March 7th?
Despite provides shields to a prioritized teammate. Her shields not only offer protection but also increase taunt value, causing the shielded character to be targeted more by enemies.
To maximize the shield's effectiveness, you need characters that benefit from being attacked like Clara, whose mechanics involve countering after receiving enemy attacks. The shield from March will make Clara more likely to be attacked and therefore trigger more counters.
An alternative character that can benefit from March's shield is Arlan, who benefits from being on low health. By shielding Arlan, you can prevent them from being defeated suddenly by enemy attacks.
After determining your main priority target for March's shield, you can support them with other characters like Tingyun, Bronya, or even Asta. The remaining slot can be filled with a healer or an additional damage dealer as needed.
---
If there's any specific party that need her, I think it will be mono ice element with Yanqing as main DPS, Pela as defense shred support, and Silver Wolf as debuffer.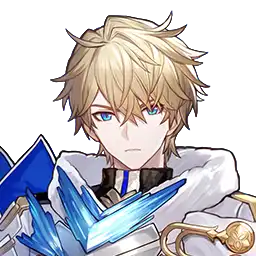 Mono Ice element with SW as debuffer