Gepard is one of the few Preservation or tank characters available in Honkai Star Rail upon its release. Being the only five-star tank obtainable through gacha, currently he is the best tank in the game despte being annoyance for many rerollers.
This distinction is not just because of its high stats as a five-star character. As a tank that absorbs damage and protects the team, Gepard also capable of crowd control to assist in managing the flow of battles.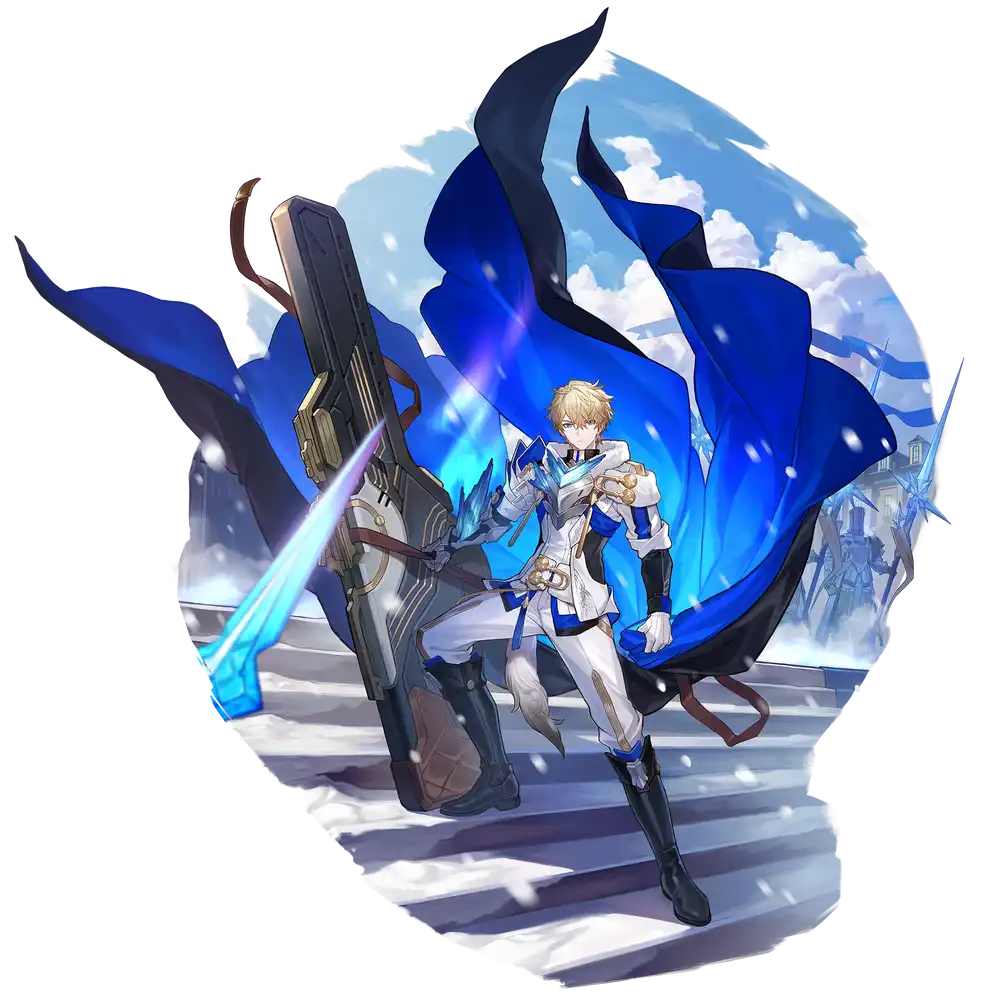 Best Light Cones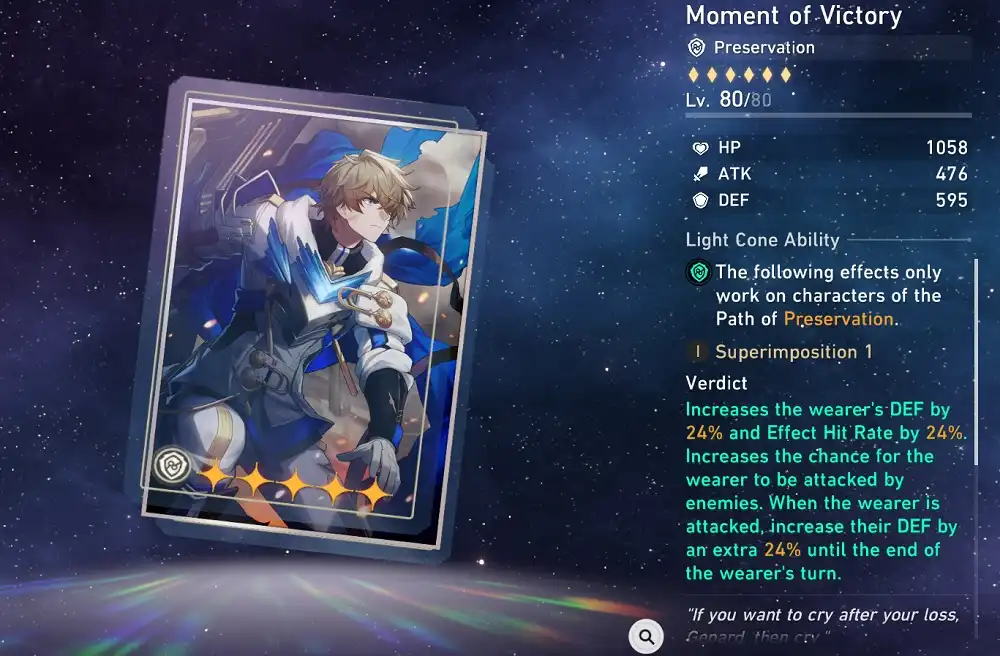 As a tank, the primary stat sought after by Gepard is undoubtedly Defense. However unlike Fire Trailblazer, Gepard doesn't possess taunt skill that guarantee enemies to attack him. Because of this, you can compensate for this weakness through the use of a suitable Light Cone.
Moment of Victory: Increases the wearer's DEF by 24/28/32/36/40% and Effect Hit Rate by 24/28/32/36/40%. Increases the chance for the wearer to be attacked by enemies. When the wearer is attacked, increase their DEF by an additional 24/28/32/36/40% until the end of the wearer's turn.
Day One of My New Life: Increases the wearer's DEF by 16/18/20/22/24%. After entering battle, increases DMG RES of all allies by 8/9/10/11/12%. Effects of the same type cannot stack.
Trend of The Universal Market: Increases the wearer's DEF by 16/20/24/28/32%. When the wearer is attacked, there is a 100/105/110/115/120% base chance to Burn the enemy. For each turn, the wearer deals DoT that is equal to 40/50/60/70/80% of the wearer's DEF for 2 turn(s).
Amber (S5): Increases the wearer's DEF by 16/20/24/28/32%. If the wearer's current HP is lower than 50%, increases their DEF by a further 16/20/24/28/32%.
This Is Me!: Increases the wearer's DEF by 16/20/24/28/32%. Increases the DMG of the wearer when they use their Ultimate by 60/75/90/105/120% of the wearer's DEF. This effect only apply 1 time per enemy target.
Relics and Planar Ornament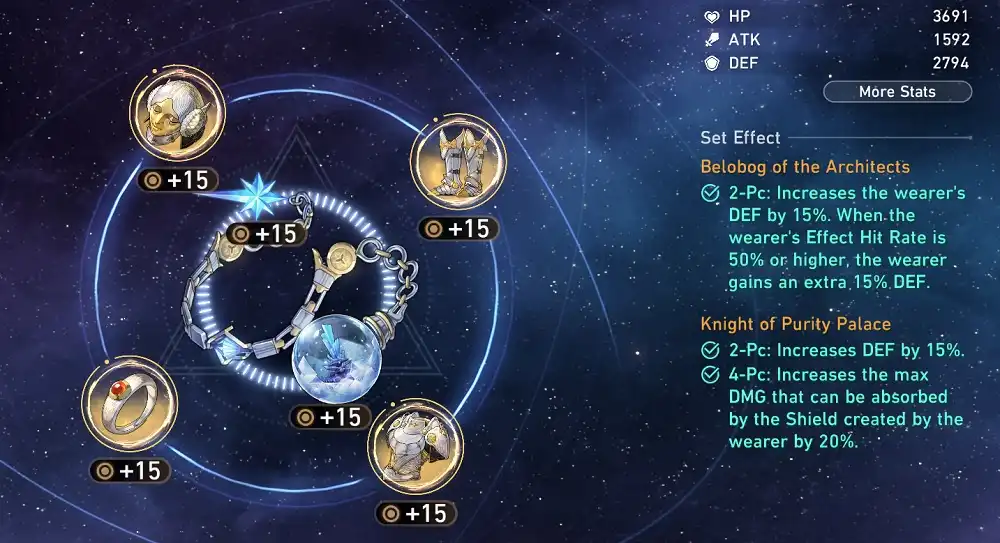 As defense focused tank, Gepard primarily requires high Defense as a crucial stat. However he also need high Energy Regeneration to ensure his ultimate availability when you need it.
This is because Gepard provides shields primarily through its Ultimate. Other stats to consider it Effect Hit Rate to ensure that enemies are guaranteed to be frozen by his skill.
Relic sets: Knight of Purity Palace from Cavern of Corrosion: Path of Holy Hymn in Cloudford, Xianzhou Luofu.
Knight of Purity Palace
(2) Increases DEF by 15%.
(4) Increases the max DMG that can be absorbed by the shield created by the wearer by 20%.
For Planar sphere and link rope, the best will be Belobog of the Architects with it's defense focused stats. You can get this planar ornament from Herta Simulated Universe World 6.
| | |
| --- | --- |
| Belobog of the Architects | (2) Increases the wearer's DEF by 15%. When the wearer's Effect Hit Rate is 50% or higher, the wearer gains an extra 15% DEF. |
As for stats and substats, DEF definitely take priority compared to other stats.
| Body | Feet | Planar Sphere | Link Rope |
| --- | --- | --- | --- |
| DEF% | Speed | DEF% | DEF%/Energy Regen Rate |
Substats
DEF% > Speed > Effect Hit Rate > HP%
Team for Gepard?
Because Gepard can provide shields and protect all party members, he can be played in any kind of party. You just need to ensure that you position it on the outermost side, far from dps so that enemy AoE effects only affect one or two team member.
If there's any specific party that need Gepard, I think it will be mono ice element with Yanqing as main DPS, Pela as defense shred support, and Silver Wolf as debuffer.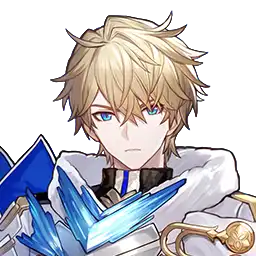 How to use Gepard?
Playing Gepard is also straightforward. The main objective for this character is to obtain and use its Ultimate as quickly and often as possible. To achieve this, he might occasionally use its skill.
Pay attention to where you use the skill. Aim it at enemies that haven't been frozen yet and/or are about to attack, especially boss characters. The goal is to freeze the enemies hit by the skill.