Xingqiu is sub dps character in Genshin Impact with ability to deal off field dps and consistent hydro application with his elemental burst (Raincutter). He also bring minor healing and damage reduction in the team.
Sword rain from Xingqiu burst will be triggered with active character Normal ATK, making him useful in elemental reaction team to support dps character who relies a lot on Normal ATK as main source of damage. For example: Hu Tao.
Both his elemental burst and skill are important to level up, while Normal Attack can be ignored completely. When using Xingqiu, you literally only switch to him to use his burst, hit enemy with elemental skil (twice with Sacrificial Sword), and switch back to main dps.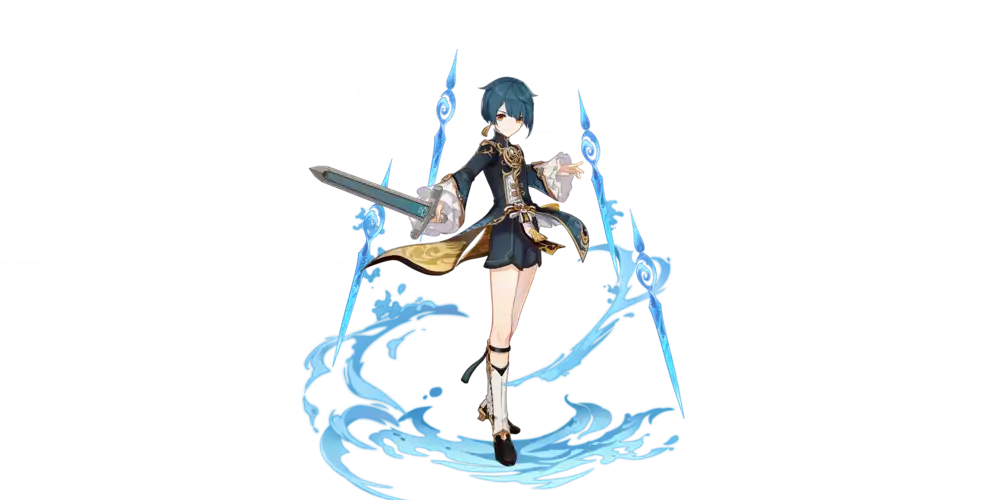 Talent Priority
Elemental Burst > Elemental Skill > Normal Attack
Weapons
Generally you can use all dps weapon with CRIT Rate, CRIT DMG, or ATK substats for Xingqiu, but considering his high energy requirement (80), Energy Recharge weapon for him is also an option.
If you are going for ATK/CRIT weapon, then you can use Energy Recharge Sand on artifact and if you are going for Energy Recharge weapon, you can go with ATK on Sand.
For F2P? Sacrificial Sword (R3+)so Xingqiu can use his skill twice, Favonius Sword so he can also fill role as team battery, or other craftable/fishing weapon provided below: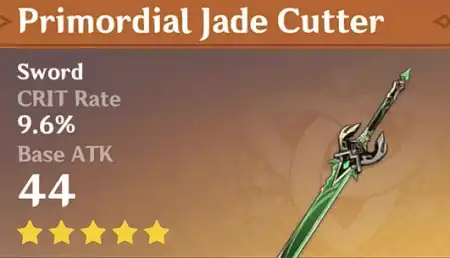 Artifacts
For artifacts, recommended to choose between 4 Emblem of Severed Fate for more elemental burst damage or 4 Noblesse Oblige for party wide ATK boost.
4 Emblem of Severed Fate
(2) Energy Recharge +20%.
(4) Increases Elemental Burst DMG by 25% of Energy Recharge. A maximum of 75% bonus DMG can be obtained in this way.
OR
4 Noblesse Oblige
(2) Elemental Burst DMG +20%.
(4) Using an Elemental Burst increases all party members' ATK by 20% for 12s. This effect cannot stack.
4 Nymph's Dream is also an option for it's ATK and Hydro DMG increase, though you will have to spend few more second on Xingqiu to gain max Mirrored Nymph stacks.
4 Nymph's Dream
(2) Hydro DMG Bonus +15%
(4) After Normal, Charged, and Plunging Attacks, Elemental Skills, and Elemental Bursts hit opponents. 1 stack of Mirrored Nymph will triggered, lasting 8s. When under the effect of 1, 2, or 3 or more Mirrored Nymph stacks, ATK will be increased by 7%/16%/25%, and Hydro DMG will be increased by 4%/9%/15% Mirrored Nymph created by Normal, Charged, and Plunging Attacks, Elemental Skills, and Elemental Bursts exist independently.
Other than 3 set above, you can mix and match 2 Noblesse or 2 Hydro DMG Bonus set (Nymph Dream and Heart of Depth) with 2 +18% ATK set (Gladiator's Finale, Echoes of an Offering, and Shimenawa Reminiscence) or 2 Emblem of Severed Fate.
Artifact Stats
| Sand | Goblet | Circlet |
| --- | --- | --- |
| Energy Recharge%/ATK% | Hydro DMG Bonus% | CRIT Rate%/CRIT DMG% |
Substats
CRIT Rate% > CRIT DMG% > ATK%/ATK > Energy Recharge% > Elemental Mastery
Best Team for Xingqiu?
Xingqiu is universal support with off field damage, consistent hydro application, healing, and damage reduction, making him wanted for a lot of team in Genshin Impact. here's some team options available for him:
Freeze Team
In freeze team, Xingqiu acts as hydro enabler to trigger freeze reaction. This team recommended to use for Melee Cryo DPS like Kamisato Ayaka with role and options below:
Cryo main DPS: Kamisato Ayaka, Ganyu.
Hydro application: Xingqiu, Sangonomiya Kokomi, Mona.
Cryo support for energy regen/heal/shield: Diona, Layla, Rosaria, Aloy.
Swirl support to shred elemental resistance: Kazuha, Sucrose, Venti.
Vaporize Team
XIngqiu constantly applying hydro and keep enemies wet, and main dps will deal the rest. Here's some members that you want to consider for this team:
Pyro main dps: Hu Tao, Diluc, Yanfei, Xiangling, Yoimiya, and Klee.
Hydro application: Xingqiu, Mona, Sangonomiya Kokomi, Yelan.
Swirl support to shred elemental resistance: Kazuha, Sucrose, Venti.
Fourth slot is flex, you can go for shield, other pyro character for elemental resonance, healer, etc.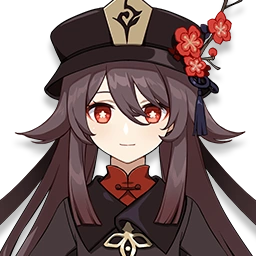 Taser Team (Electro Charged)
Taser team idea is constant hydro and electro application which result in constant electro charged reaction. This team consisting of hydro character and electro character with at least one of them capable of dealing off field damage.
As for team composition, it's up to you. You can have 2 hydro and 2 electro, or 2 hydro 1 electro, and 1 swirl, etc.
Main DPS: Cyno, Tartaglia, Kamisato Ayato, Razor, Raiden Shogun
Sub DPS: Raiden Shogun, Fischl, Kuki Shinobu, Xingqiu, Yae Miko, Lisa, Mona, Beidou
Swirl: Venti, Kazuha, Kokomi, Sucrose.
Fourth slot is flex, you can go for shield, 2nd Hydro/Electro, buff, etc.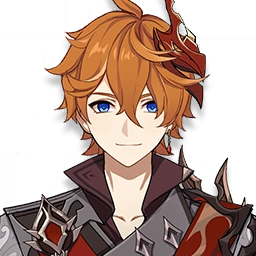 Electro Charged team example