Fleuve Cendre Ferryman is new upcoming 4 star sword in Genshin Impact, from Fountaine Region. It's have quite unique shape, a pipe! Kinda remind me of Trio Luffy, Ace, and Sabo (One Piece) weapon during their childhood in Goa Kingdom.
Increases Elemental Skill CRIT Rate by 8/10/12/14/16%. Additionally, increases Energy Recharge by 16/20/24/28/32% for 5s after using an Elemental Skill.
At level 90, this sword have base ATK of 510 and Energy Recharge maxed at 45.9%.
How to obtain?
Fleuve Cendre Ferryman can be purchased from Delaroche, Fishing Merchant in Fountaine. Just like The Catch polearm in Inazuma and End of the Line bow in Sumeru.
You can find Delaroche north east of Court of Fountaine. Check the map below: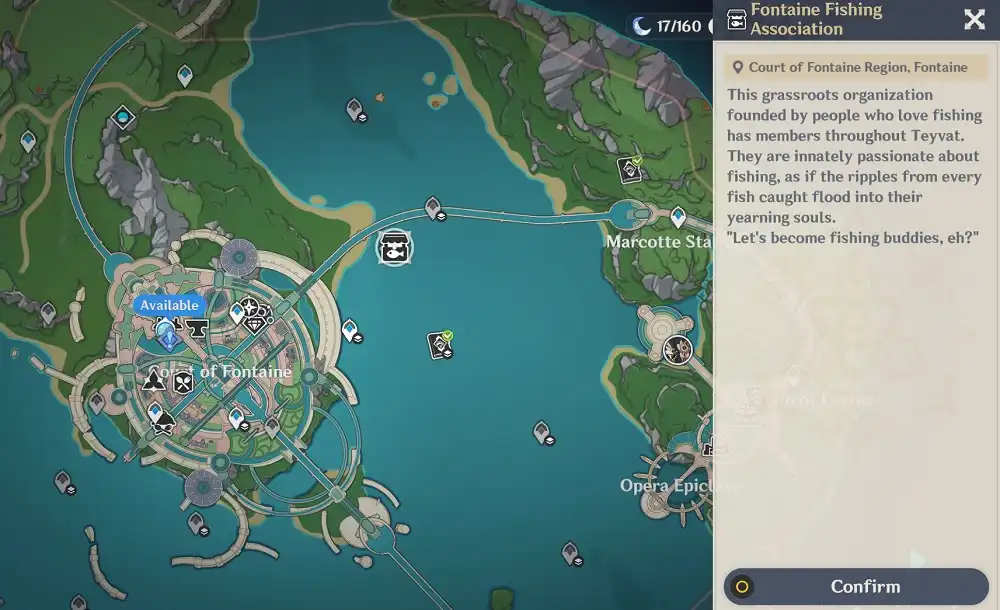 With all available item to purchase: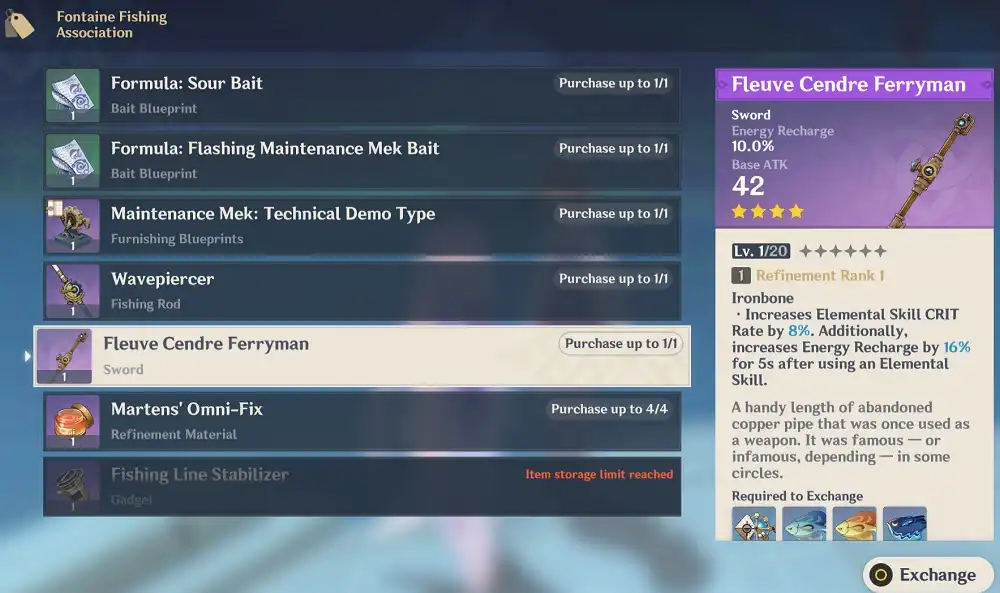 Upgrade Materials
150.000 mora.
Weapon Ascension material: Fragment of an Ancient Chord x3, Chapter of an Ancient Chord x9, Movement of an Ancient Chord x9, and Echo of an Ancient Chord x4.
Common Material 1: Drop of Tainted Water x15, Scoop of Tainted Water x18, and Newborn Tainted Hydro Eidolon x27 dropped by Hydro Phantasms.
Common Material 2: Transoceanic Pearl x10, Transoceanic Chunk x15 and Kaleidoscopic Crystal x18 dropped by Fontemer Aberrants.
Who's gonna use Crossing of Fleuve Cendre?
Based on it's Energy Recharge substats and effect, this sword will be good for support character who's valued by their elemental burst like Bennet with his ATK boost + heal or Layla who have reliable rain of ice for her party.
A bit update, this sword also good to use for new character: Lynette though it's a bit behind Sacrificial Sword and Favonius Sword.
It's good alternative for player who missed Festering Desire from early Dragonspine event release